Jacksonville Acupuncture Aficionado
Xiao Lu Luo, A. P., D.O.M, Full Professor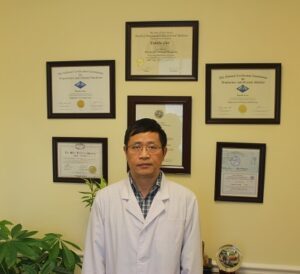 Dr.

[Shiao]:

[Loo]:

[Loo-aw]: (pronounced 'Shiao-Loo-Loo-aw') holds over 30 years of experience and expertise of working with Auricular Acupuncture, Scalp Acupuncture, Chinese massage and herbal medicine. With a background in both Western and herbal medicine, Dr.

can help you pave way for a healthy life in a safe and natural way.Using holistic, safe and natural methods of therapy for treating various ailments like fatigue, migraine, hormonal imbalances and depression is Dr.

's forte. He also excels in providing dietary suggestions and nutritional advice for a healthy and balanced lifestyle. Dr.

uses his knowledge and skills in herbal medicine to treat the root cause of most health problems and custom mixes Chinese herbs for a natural and effective solution.

Dr.

not only holds a vast experience of practicing

Acupuncture

and Chinese herb therapy for the last 30 years, but has also taught various courses related to Traditional Chinese Medicine. During his time as a teacher, Dr.

has been a mentor for all his students, some of which are successfully practicing acupuncture themselves. 

Kellie Krasovec

 is one such student, who currently practices acupuncture in Edward, Colorado state and has been a great colleague and friend.

Passion and compassion in his attitude is the main reason for his growing list of satisfied patients in the past 30 years. Many times, after treating one of the family members, his/her other family members and friends come to Dr.

for help. He really appreciates their support. His warm and friendly nature and vast clinical experience not only makes him a prominent name in Jacksonville Acupuncture, but also attracts patients from  all over country. Committed to excellence in medicine, Dr.

has dedicated his life to promoting optimum health and wellbeing in an all-natural way.
Academic Credentials
Experience
2007-now Practicing Traditional Chinese Acupuncture and herbal medicine at the Family Acupuncture Clinic in Florida.
2005-2007 Opened Private Clinic and practiced Acupuncture at the Family Acupuncture Clinic in New Mexico.

2006 – 2007 Clinic Director

in both the Santa Fe and Albuquerque campuses of the Southwest Acupuncture 

College.

2001-2007 Full time Professor and Clinic Supervisor in both the Santa Fe and Albuquerque campuses of the Southwest Acupuncture College.
2001-2007 Taught master degree programs' classes like Advanced Needle Techniques, Advanced Clinical Diagnosis, Internal Medicine, Oriental Nutrition, Point Energetics and Chinese Massage etc. during his tenure at the Southwest Acupuncture College.
2000-2001 Served as the Professor and Clinic Supervisor at the Florida Institute of Traditional Chinese Medicine and taught many different courses including Internal Medicine, Herbal Medicine and Geriatrics etc.
1990 – 1996 Served as an Assistant Professor, Attending Physician and Researcher at Tianjin University of Traditional Chinese Medicine. Specialized in rheumatic diseases and cosmetic treatment.
1987 -1996 Worked as Chief Physician at the Outpatient Clinic and Inpatient Department at the Tianjin Rheumatism Hospital. He utilized Traditional Chinese & Western medicine to reach best results for his patients
1994 – 1998 Member at the National Association of Integrative Traditional Chinese Medicine and Western Medicine.
1989 – 2000 Served as Member and Secretary of the Academic Committee of Rheumatic Diseases of Traditional Chinese Medicine and Western Medicine, China.
2009 – Now Executive council member of specialty committee of pediatrics of world federation of Chinese medicine societies.
Certifications
2000 Licensed Acupuncture Physician (FL)
2002 Licensed Doctor of Oriental Medicine (New Mexico)
1999 National Board Certified Acupuncturist (NCCAOM)
2001 National Board Certified Herbalist (NCCAOM)
1999 Certificate of Clean Needle Technique
1993 Certified Research Assistant (China)